A controlled landfill is where the final disposal of waste takes place. A landfill therefore is the final destination of waste categories that cannot be recovered any other way.
Depending on the type of waste they host, landfills are classified into three different categories:
Landfills for inert waste

Landfills for non-hazardous waste

Landfills for hazardous waste
Specific environmental safeguards and technical-construction requirements are defined for each category of landfill, due to the fact that the type and extent of the environmental impact associated with a landfill depends on the type of waste it hosts.
A controlled landfill guarantees the containment and control of impacts generated by waste disposal, typically the production of biogas e leachate.
Control of a landfill does not end with the period in which it is accepting waste, but continues after its closure, since even after the last delivery of waste is unloaded, the production of biogas and leachate continues for years. In accordance with legislation, the post-operational management of a landfill lasts at least 30 years from the last delivery.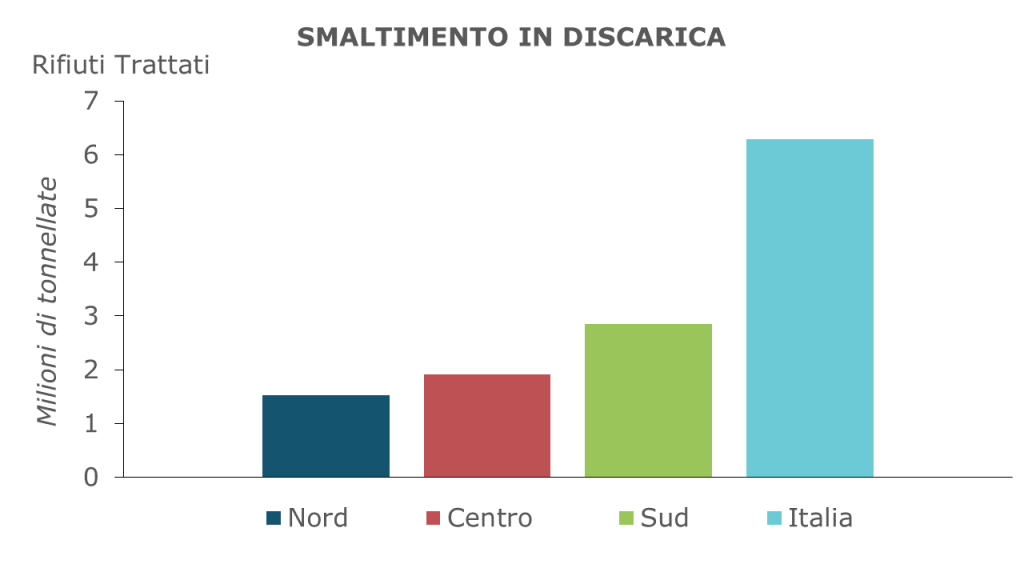 In Italy, landfills are still one of the most frequently used waste management systems, although their use is decreasing. In 2018, 24% of municipal waste produced in the country was disposed of in this way, while in 2019 landfill disposal of municipal waste dropped to 21%. 
A landfill can be considered as a large reactor into which waste and water enter, while liquid (leachate) and gaseous (biogas) products are produced, formed as a result of chemical and biological reactions in the waste.
The basic barrier
The location of a landfill is determined partly by the geological characteristics of the site: the soil must be of very low permeability, so as to create a natural barrier preventing pollutants deriving from the accumulation of waste entering the subsoil and groundwater.
In order to guarantee complete isolation, in addition to the natural geological layer, a basic waterproof barrier must also be created artificially.
The barrier takes the form of a multilayer system in which different materials alternate as follows, listed from bottom to top:

Layer of compacted clay;
Geomembrane (plastic sheet);
Draining layer (gravel and sand) in which the leachate pipes are placed.
The final cover
Once the landfill has reached capacity it is closed, which implies the construction of a cover for the waste with the aim of isolating it from the external environment and minimizing infiltration by water and therefore the formation of leachate. This is again a multilayer system consisting of:
Waterproof layer (geomembrane)
Draining layer (gravel)
Planted layer (sandy clay)