MatER Meeting 2019 | Wedn. 29/5 Technical Visit


TIME SCHEDULE – Wed. May 29th
According to the nature of the MatER Study Center, with the 4th edition of the Meeting we have been able to finalize a comprehensive technical visit that will both include a material recovery and an energy recovery from waste facility, thank to the collaboration with our industrial partner HerAmbiente.
On Wednesday May 29th, in the morning we will have the pleasure to be the first group to visit the new composting & biomethane production plant at Sant'Agata Bolognese (BO), while in the afternoon we will move to the Waste to Energy plant of Modena.
8:15 Meeting point & Departure @ Palazzo Farnese BUS stop, Piacenza
HERAmbiente biomethane production PLANT VISIT @ Sant'Agata Bolognese (BO)
12:30 Small Lunch @ Sant'Agata Bolognese Plant
HERAmbiente Modena Waste to Energy PLANT VISIT
Technical visit end and BUS return
Modena City Center railway station intermediate stop
Reggio Emilia (Mediopadana) High-Speed Railway Station intermediate stop
17:00 BUS Arrival @ Piacenza
In order to facilitate the return of the partecipants, we have programmed 2 intermediate stops on the way back to Piacenza after the technical visit end in the afternoon:
The first bus stop is going to be at the Modena railway station in the city center, dedicated particularly for passangers heading to Bologna and more southern directions.
The second bus stop is going to be at the Reggio Emilia AV (High Velocity) Mediopadana railway station, dedicted particularly for passangers heading to Milano for further plane connections (train duration approx. 50 min). High velocity trains solutions are available with ITALOTRENO (16:24 Reggio Emilia AV > 17:15 Milano Centrale) or TRENITALIA (17:44 Reggio Emilia AV> 18:40 Milano Centrale).

MATERIAL RECOVERY MORNING

:


HerAmbiente Composting & Biomethane production new facility


Via Romita 1, Sant'Agata Bolognese (BO)
From organic waste to biomethane, a 100% renewable fuel
In the new S. Agata Bolognese organic waste will be subjected to a process of anaerobic biodigestion for biogas production. Essentially, the organic waste, shredded and sifted, will remain for approximately 21 days in 4 horizontal digesters, hermetically sealed, where appropriate microorganisms will complete the digestion process producing biogas, made up of methane and carbon dioxide. This will undergo an "upgrading" (purification) process, passing through pressurised water against the current: the carbon dioxide will thus be separated from the methane. The end result will be biomethane, a gas with a methane content of over 95%, and a completely renewable source of energy. At the end of the digestion process, lignocellulosic material will be added to the outgoing solid part in order to obtain a compact mass that will then undergo into a composting phase from which quality compost will be derived, used as potting soil for home use or as fertilizer in agriculture.
Biomethane will allow 6,000 tonnes less oil to be used each year
Thank to the implementation of new and improved anaerobic digestion and up-grading technologies (respectively developed byKompogas in Switzerland and Malberg in Sweden), biomethane will be produced without relinquishing the recovery of materials and the production of compost for agriculture. From 100,000 tonnes per year of organic sorted waste, in addition to 35,000 tonnes from harvested vegetables and pruning, it will be possible to obtain, at full productivity, 20,000 tonnes of compost and 7.5 million m3 of biomethane, avoiding a use of fossil fuel coming to the equivalent of over 6,000 tonnes of oil, or 14,600 tonnes of CO2. The resulting biomethane will be able to be used as fuel for private methane vehicles and local public transportation, thanks to partnerships with local public transport companies, and citizens will be able to circulate in vehicles fully powered by the new green fuel. This is therefore an initiative that, if replicated, may offer an important contribution to the nation's energy strategy and towards achieving the 20-20-20 European targets.
As the plant has been recently inaugurated we will have the pleasure to be the first group to visit this novel facility, with a key role in the national circular economy goals.
ENERGY RECOVERY AFTERNOON

:


HerAmbiente Waste to Energy plant


Via Cavazza 45, Modena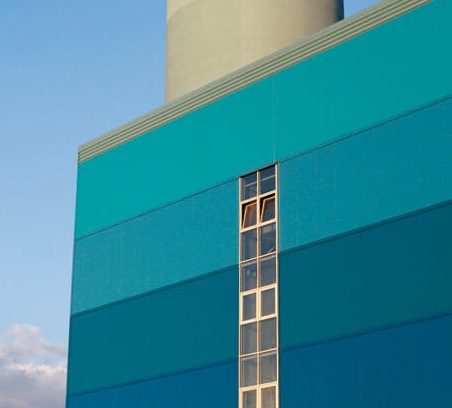 The Waste-to-Energy plant of Modena is located inside a multifunctional complex in which there is also a chemical-physical plant for the treatment of liquid waste managed by Herambiente S.p.A. and a biological purification plant for residential liquid waste and wastewater, managed by Hera S.p.A.
The plant's first two lines, each with the potential to process 140 metric tonnes per day, began operating in 1980. A third line, built based on the criteria set forth in Presidential Decree 915/82, was subsequently installed, with a nominal potential of 250 metric tonnes per day. When the plant began operating at the beginning of the 1990s, the total maximum annual quantity of treatable municipal solid waste was 140,000 metric tonnes, while the maximum quantity of treatable hospital waste did not exceed 5,000 metric tonnes per year. The lines described above were decommissioned in September 2009 and permanently demolished between May and December 2011, making way for the new plant configuration. The fourth line, with an approximate disposal capacity of over 180,000 metric tonnes per year, began operating in December 2008 for functional testing and in 2009 for testing with waste. One year later, it finally became fully operational.
Total thermal capacity:  Approximately 78 MWt
Combustion technology: Water-cooled moving grate incinerators
Waste disposal capacity: 650 ton/d with LHV of 10,5 kJ/kg